StockCar Mobile Robot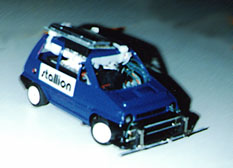 Overview
The StockCar mobile robot is a fully autonomous vehicle. It is used in a Nascar circuit environment and races with other vehicles at the same time.
For a complete set of rules for the StockCar Competition, please visit the ACS Robotics Sig.
The competition was held on the 29 Nov 97. Our car WON!!!. There will be pictures to see real soon.
See more pictures of the stockcar.
Race Team
Aaron Dwyer - Financier, Design, Code

Anthony Templeton - Design, Integration, Code

Design

The design of the StockCar is simple yet effective. The two main ingredients for this robot are the controller board, and the robot chassis.

The controller board used is a HandyBoard. These boards are great for basic robotic uses.

The robot chassis for the StockCar was kindly donated by David McCullough, who through his generosity, we have been able to complete this project.

Several sensors were used to complete the design.

2 Bump sensors at front.
5 Light detector resistors (LDRs) across the front bumper bar.
One hall effect sensor under rear axle.
One IR detector in rear left of car.

Integration

The integration of the robot chassis, controller board, and sensors was done by Anthony. Who in concert with myself and hours of effort has culminated the design into a working robot.

The first step was to remove the old remote circuitry out of the car.

Next was to build the Handyboard and fit it all into the chassis.

Work was then done on basic motor control and simple sensor recognition.

Algorithms for line following and cornering were programmed.

More alogorithms were designed for bump conditions and staying within the track.